The wood of Penfoulic reserves 30 hectares of undergrowth and large trees. An arm of the sea, like a mangrove, nestles along the meadow where Shetland ponies graze. This rich and varied site is the ideal place for a walk.
Map of the developed trail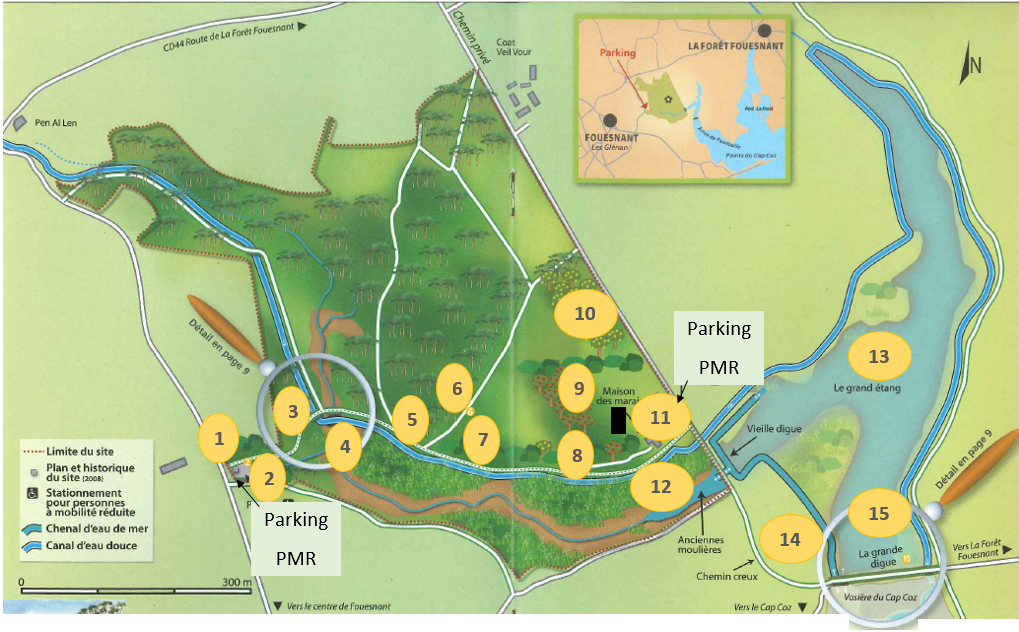 Throughout your journey on the accessible path of the Bois de Penfoulic, you will be able to observe:
The 2 starter yews : emblematic tree of the Celts, they seem to watch over the place.
A plan of the Penfoulic site which allows the visually impaired to find their way around the place before starting the walk
"The giraffe tree" and the squirrel lounge: the two favorite places of children. Settle down here and let yourself be won over by the tranquility. Along the breadcrumb trail, two bird bollards and a wink with a "giraffe" sculpture. In the morning and in spring, it's a real concert in the beeches and oaks. Our many sparrows, tits, finches, wrens and others are having a great time.
The aqueduct, with fresh water from the Pen Al Len stream
the 1er tull-karr with the two mercies. Sit down to watch the Shetland ponies.
Path lined with silver fir trees that lead you to the upper woods (more difficult to access for people with reduced mobility)
Along the 650 m, the embankment bordering the canal is Ariadne's thread for the blind. Another mercy towards the middle of the trail near a burrow and a fox sculpture
the 2th tull-Karr and two other mercies
The conservatory orchard of the 70 knife apple trees
The other conservatory orchard and the 136 cider apple trees
The Marsh House : site house of the Conservatoire du Littoral (open only in July August Closed during this summer 2020). Nearby, a Braille relief map allows the blind to find their way around the site and understand the discovery of the 650-metre walk. A sound terminal completes the information by explaining the route, as well as a map for the visually impaired from the start of the trail.
The meadow grazed by Shetland ponies. You see furrows there, traces of ancient cultures
The large saltwater pond (private)
The famous sunken road, a work made by man in 1870
The big dam of 1870 which was built for the creation of the large pond.
The accessible 650 meter walk is labeled "Tourism & Handicap" for 4 families.